Virtual online conference.
Support for humanitarian crisis in Ukraine – Event organized by the Inter-Coutry Committees Executive Council in partnership with Rotaract Europe MDIO (ERIC – European Rotaract Information Center) and in replacement of the ICC International Conference and General Assembly in Kiev.
Speakers will include Rotary International leaders, European Rotaractors, Rotarians and Inter-Coutry Committees leaders currently working on and supporting clubs and districts of RI taking action for direct humanitarian support in the Ukraine region.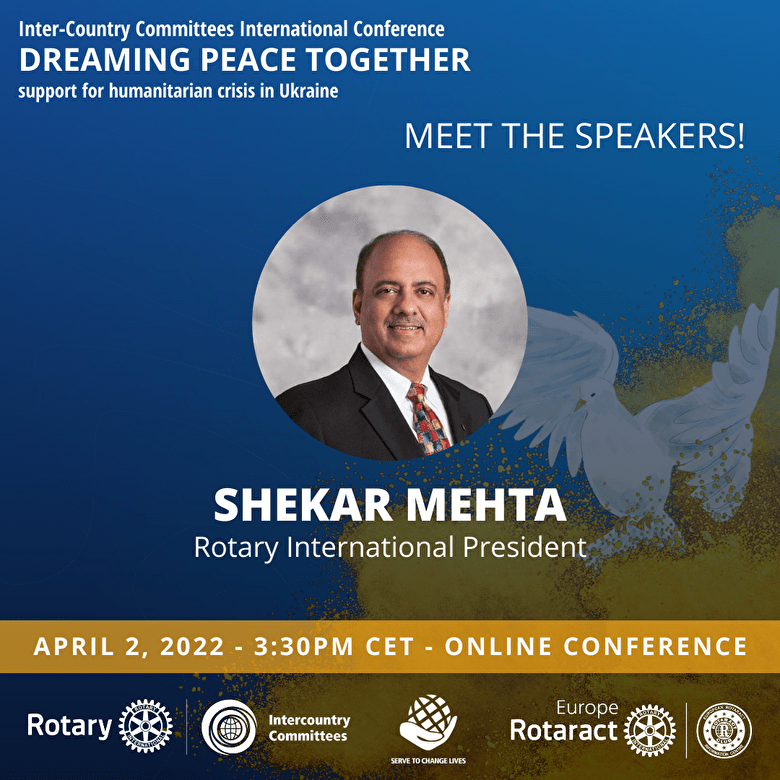 Confirmed speakers:
Shekar Mehta, Rotary International President 2021-2022
Gordon McInally, RI President-Nominee 2023-2024
Iryna Bushmina, Rotaract RAG4Peace President, Ukraine
Alex Orme, Head of International Giving at Shelterbox
Mykola Stebljanko, Editor of the Rotary magazine in Ukraine
Katerina Kotsalli-Papadimitriou, RI Director Zones 21/22
Celia Giay, ICC National Coordinator of Argentina, Rotary International Houston 2022 Convention Committee Chair
Xavier Pacaud, Chair of ICC National Section France-Ukraine
Dana Moldovan, ICC National Coordinator of USA, DG D-5240
Claudine Schooley, Chair of ICC National Section USA-Ukraine
Christiane Leitner, President 2021-2023 of Rotaract Europe (ERIC)
Cyril Noirtin, Chairman of the ICC Executive Council.
This event will also be a call for donors around the world to contribute funds to support the relief efforts underway through the Rotary Foundation Disaster Response Fund and the Rotaract Europe Help account.
The event will be broadcast on Saturday April 2, 2022 at 3:30 PM CET on:
Participants will be able to interact with each other via the chat on the YouTube page and interesting comments will be put on the screen.